Home
> Advantage > 專業優勢 - Professional Advantage
專業優勢 - Professional Advantage
Professional
Advantage專業優勢
嚴謹的品質監管Rigorous Quality Control
秉承质量为先的原则,我們所用原料均符合OEKO-TEX 100環保認證,品質監管覆蓋每個生產環節:
Adhering to the principle of quality first, all the materials we use has reached OEKO-TEX 100 certification. Strict quality control covers in every production process: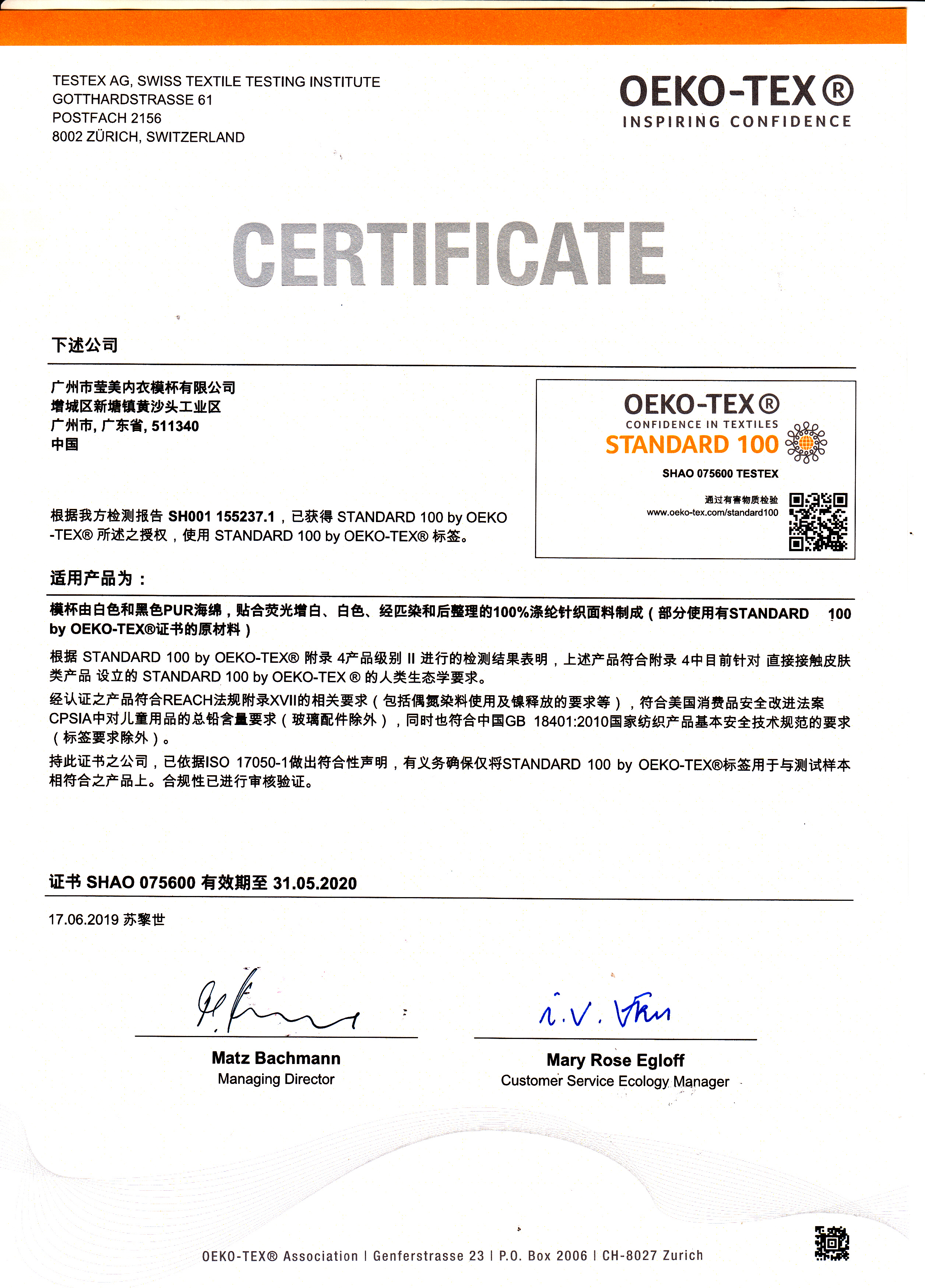 來料檢測:
針對物理性質,进行耐海水色牢度、耐摩擦色牢度、拉力、密度、纖維含量等測試;針對化學成分,進行PH值、酚黃變、偶氮染料、甲醛、APEO等測試。
Material Inspection:
For ph
ysical properties, tests for CF to seawater, CF to rubbing, resistance to twist, density, fiber content and etc; for chemical composition, test for PH value, Phenolic yellowing, AZO Dye, Formaldehyde, APEO and etc.
生產品質把控:
膠水粘合度檢驗、洗水測試、定型溫度把控、膠殼核對尺寸、燈箱對色。
Production Quality Contr
ol:
Test for bond strength and washing, moulding temperature control, color check and etc.
配合客戶進行第三方檢驗,
合作機構包括
BV & SGS
。
Third-party Ins
p
ection
(according to customer needs
), including BV & SGS .
高效的生產期Efficient Production Leadtime

完善的配套設施erfect affiliated equipments
板房測試設備及生產設備齊全,分別有洗衣機、PH測試機、酚黃機、銑床、自動削棉機、運剪、真空吸塑機各1台、臥式單槽貼合機2台、液壓啤機15號、沖布機20台、氣動罩杯定型機60台。
Out board room has complete testing and production equipment, including 1 washing machine, PH testing machine, phenol yellow machine, milling machine, vacuum suction machine, automatic cotton cutting machine and shearing machine and shearing machine respectively, 2 horizontal single groove fitting machines,15 hydraulic beer machines, 20 punching machines and 60 pneumatic cup shaping machines.